Your next learning journey starts here
Find out how Avara and Discovery are helping you to develop
IMPROVE YOUR LEADERSHIP SKILLS
increase COMMERCIAL acumen
take this opportunity to learn
Leadership behaviours are at the heart of a business.
As part of their commitment to your future, Avara Foods are offering you the chance to enrol on Discovery's programmes, designed to develop leadership skills.
Our programmes are designed to be fun, challenging and memorable! Using blended learning, we will work with you to strengthen your leadership toolkit, advance your unique areas of development, and stimulate your strategic and commercial thinking.
Sign up for the programme
To sign up for the programme, please click the button below and complete the prior learning form.
This programme has enabled me to really learn techniques and tools to implement in the workplace to really try becoming a better leader. So it's really given me fantastic ideas and a general ability to make the most out of my time at the company, and how I work and interact with people.
GRADUATE TRAINEE, SIMS METAL MANAGEMENT
I think doing the apprenticeship programme is a journey. I've found out more about myself than I've ever really thought about before. And I think it's not only been a journey to help me to develop my career, it's also been a journey about discovering more about myself. That's just been really powerful.
RFS PROJECT MANAGER, TUNSTALL HEALTHCARE (UK) LTD
Overview of the programme
The programme is a catalyst for change. With a better understanding of yourself you will learn to inspire and lead others, gaining skills and knowledge to develop exceptional leadership capability, and advance your career.
Aligned to the Operations/Departmental Manager Level 5 apprenticeship standard, the 'Emerging Leaders' programme is designed to provide high-potential, future leaders with the skills, knowledge and behaviours that will stretch you and help you to reach your full potential.
The programme is an accredited Level 5 apprenticeship designed to improve your understanding of:
Organisational Performance – delivering results

Interpersonal Excellence – managing people and developing relationships

Personal Effectiveness – managing self

Behavioural Impact – the perceptions and effects of behaviour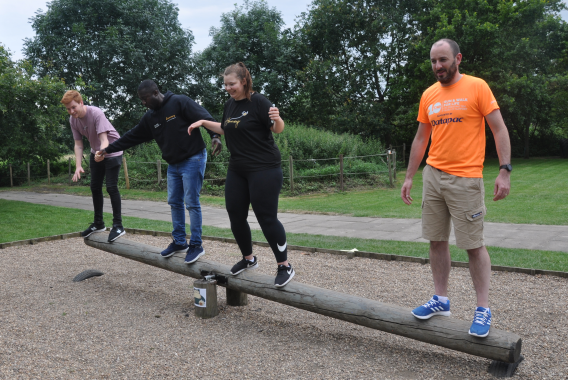 Across the duration of the course, you will experience:
A group induction to on-board you to the programme
Blended learning through virtual, experiential & classroom sessions
Taking part in real-world scenarios and business simulations
1-2-1 support and coaching throughout the programme
Self-development through online learning and webinars
Building upon your learnings back in the workplace